Gas plant in Wasit, one of Aramco projects which will be witnessed by the Custodian of the Two Holy Mosques during his visit to the eastern region
mohamed / 0 Comments /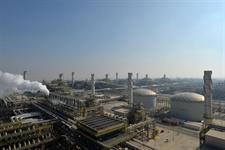 This day the Company "Aramco" Reviewed 5 of her mega projects, which the Custodian of the Two Holy Mosques ''King Salman bin Abdul Aziz'' will launch and inaugurate their expansions during his current visit to the eastern region. Aramco company spoke about each project and showed its advantages, the projects of its expansions and production, challenges, conditions of its launch and its functioning.
Projects reviewed by "Aramco" included: King Abdul Aziz Center for World Culture "Ethraa", the giant Kharis project, "Manifa "project field, gas plant in Wasit, "Shaybah" project. And in the following all details about the gas plant in Wasit project.
The establishment of a gas plant in Wasit north of Jubail on the Gulf coast of the Kingdom, to handle 2.6 billion cubic feet per day of non – associated gas from "Hasba" and "Arabia" fields in the Arab Gulf.
The project also contains huge facilities which include four units for gas processing, fractioning natural gas liquids and turning them into valuable products for petrochemical factories with a design capacity of 240 thousand barrels per day.
In addition to four units for dual production of electricity and steam with 750 MW capacity to ensure lab self – sufficiency, and to support the company's other facilities with the surplus of electricity, at a total cost estimated by 9.375 billion riyal.
The "Hsaba" field, which is the supplier for the gas plant in Wasit, contains seven platforms of single well, and it will provide the plant with 1.3 billion standard cubic feet of non – associated gas per day, while the other supplier ,"Arabia" field, contains six wells, and it will supply the gas plant with 1.2 billion standard cubic feet per day, which will empower the plant to process 2.5 billion standard cubic feet of non – associated gas.
Aramco expects that the Wasit plant will provide 1.7 billion standard cubic feet per day of gas allocated for sale, and that this plant along with Karan plant, which was run in 2012, will increase the capacity of gas processing by about 40% in the Kingdom.